Find a Music Therapist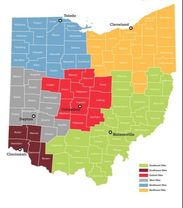 Please refer to this map when searching for a music therapist in your area. Music therapists are listed below by region.
Members of AOMT can choose to have their contact information listed in the "Find a Music Therapist" section of the website during membership registration. If there is not a music therapist listed in your area, please contact
AOMT Webmaster
for more information on how to find a music therapist near you.
Music therapists, if you want to be listed, please email
AOMT Webmaster
with relevant information.
(Updated 2/22/2017)
Listing by Region
Central

Southeast

Southwest

Out of State

Jaime Alspach, MT-BC

Music Therapy Enrichment Center, Inc.

Westlake, OH

440. 250. 0091

jaime.alspach@MTECincorporated.com

www.MTECincorporated.com

Ellen Antes, MT-BC

The Groovy Garfoose

Hudson, OH

​

www.groovygarfoose.com

​​

Christine Bomberger, MT-BC

Cleveland Clinic

Cleveland Hts, OH

Debbie Bates, MMT, MT-BC

​ Cleveland Clinic

216. 444. 9639

Kathleen Brown, MT-BC

Lakewood, OH

kdbmtbc@aol.comLucille Cimino, MT-BC

Sound Inspirations Music Therapy, LLC

Mentor, OH

440. 290. 9883

www.soundinspirationsmt.com lucy@soundinspirationsmt.comRuby Chen, MM, MT-BC

The MetroHealth System

Cleveland, OH

​

ychen@metrohealth.orgDeborah Colvenbach, MT-BC

New Avenues to Independence, Inc.

Euclid, OH

d.colvenbach@newavenues.net Diane Cowan, MA, MT-BC, CHPCA

Hospice of the Western Reserve

dscowan@hospicewr.org

​

Kaitlin Emmert, MT-BC

Cleveland Clinic

Cleveland Hts, OH

812. 301. 1526

​

kaitlin.emmert@gmail.com

​

Amy Foye, MT-BC

Brookdale Hospice

440. 258.9241

AFoye@roadrunner.comEd Gallagher, MT-BC

Beck Center for the Arts

Parma, OH

216. 521. 2540 x12

egallagher@beckcenter.orgLisa Gallagher, MA, MT-BC

Cleveland Clinic

Parma, OH

​

gallacl@ccf.org

​

Elizabeth Germano, MT-BC

Westlake, OH

Cleveland Clinic Fairview Hospital

hawthorne78@yahoo.comEmily Guthe, MM, MA, MT-BC

Cleveland CLinic - Hillcrest Hospital

Bonnie Hayhurst, MT-BC

440. 525. 2822

​

www.groovygarfoose.com bonnie@groovygarfoose.comLaura Higgins, MT-BC Samantha Huffman, MT-BC

University Hospitals Elyria Medical Center

Elyria, OH

440. 326. 4510

​

huffmansamantha55@gmail.com​Marcia Humpal, M.Ed, MT-BC

Cleveland State University

Alane Krumbine, MT-BC

Music Therapy Enrichment Center, Inc.

Westlake, OH

440. 250. 0091

alane.krumbine@mtecincorporated.com

www.MTECincorporated.com

Arissa Kyler, MT-BC

Cleveland Clinic

Deforia Lane, PhD, MT-BC

University Hospitals Cleveland Medical Center

Cleveland, OH

216. 844. 5298

deforialane@usa.net www.musicasmedicine.comKatherine Lindberg, MT-BC

Wooster, OH

937. 677. 4834

musictherapistkl@gmail.com www.melismamusictherapy.comSusan Mandel, PhD, MT-BC ​​​
Leslie Meadows, MA, MT-BC

Akron, OH

330. 421. 3644

lesliedmeadows@gmail.comStephanie Morris, MT-BC

412. 628. 6714

morrisstephanie835@gmail.com

​

Sarah Paczak Chappell, MT-BC

sarahpchappell@gmail.com

Tara Pell, MA, MT-BC

University Hospitals Seidman Cancer Center

Cleveland, OH

​ 216. 844. 7398

tjgriest@icloud.comMolly Starner, MT-BC

Holmes County Board of DD

Holmesville, OH

330. 674. 8045 x257

mstarner@holmesdd.org

Laura Smith, MT-BC

Asthma Educator Certified

Beach City, OH

Hennis Care Centre of Dover

330. 260. 1580

Lauren Welich-Holtman, MT-BC

216. 409. 5269